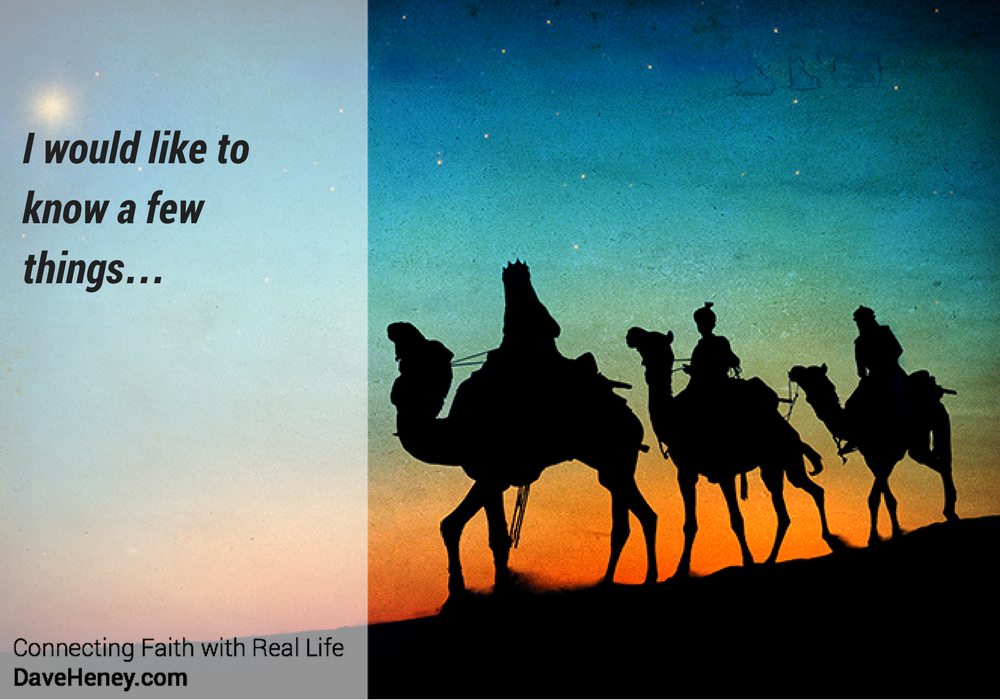 Gospel Reflections for January 7, 2018
I would like to know a few things…
The Three Wise Men, or Magi, had their priorities straight when they travelled over 500 miles to see Jesus in Bethlehem. They could have stayed home, but chose instead to seek the wisdom of the King of Kings, even in that humble stable. I like their style. I admire anyone who continues to learn …and seek knowledge.
I would like to know a few things too, like why some people get sick while others remain healthy, how exactly the universe and human life evolved, and even how we might find peace in the Middle East or North Korea.
I have even more questions ready should I ever speak to Jesus face to face. If you could speak directly to Him, what might you want to know?
In the meantime, I seek out wise people to whom I can ask my questions. Our Catholic tradition is founded on using our mind to understand our world, and especially God's revelation. While an educated person might know a lot of things, a wise person has them in the right perspective; knowing what is important and what is not. We respect wisdom more.
The Magi recognize they will meet a king who comes from God and so they immediately begin their journey. What a golden opportunity! Wouldn't you want to meet a person who could answer all questions?
However, instead of bringing questions …they bring gifts! Rather than demand answers, they come in gratitude …and bearing presents! Rather than expect something from God, they seek only to worship. Why did this happen?
Perhaps a lifetime of gazing at the stars gave them that sense of wise perspective. Perhaps the beauty and majesty of the universe taught them that someone else is in charge, and they felt profound gratitude. Their first impulse was not to get something, but to give thanks for the stars, their own life, and, especially …this child in Bethlehem.
No wonder they are called wise.
It is still good to ask God for answers, for wisdom, and whatever else we might need. I still have my questions, but I am grateful for the example of the Magi to first bow down in worship of Our Lord.
I am sure they would invite us today to remember that in the end, someone else is in charge …and to be grateful for the very life we have, and the Lord we praise.
God Bless!
Fr. Dave