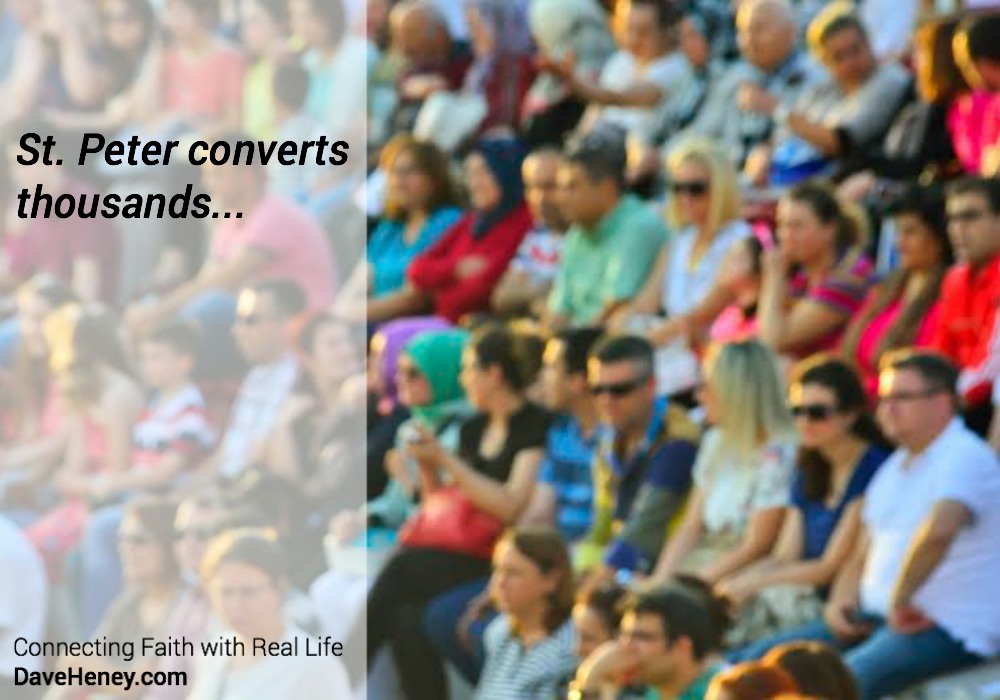 Gospel Reflections for April 17 2015
St. Peter converts thousands
Peter gives a single speech about Jesus in the First Reading and over 3000 people rush to be baptized! How did that happen?  Was he that good?
I have studied that speech for some time trying to discover the secret to his success. Wouldn't we all like to be that effective in persuading people to change! Parents with children, managers with employees, and coaches who want to inspire athletes. Think of what you could do in your business or family if you could easily persuade them to your idea. How can just a few words from St. Peter make such a difference?
It is hard to tell from just reading the text. All we have are his words written on the pages of the Gospel. We do not how he spoke or with what emotion or behavior.
The key to understanding his success is to focus on what happened just before his speech. He had been hiding in a locked room with about a hundred other disciples fearful of being captured by the same people who put Jesus to death. Even though they had all seen the resurrected Jesus they were still afraid of those who had put Him to death. What made the difference?
On Pentecost Sunday the Holy Spirit came upon them all as tongues fire. The Holy Spirit brought new energy to them that changed everything. They burst out of the room where they were hiding and went straight toward the crowd they had earlier feared! St. Peter and the rest spoke boldly about their experience of Jesus.
What kind of person "bursts out" of a fear filled room? …Only a person who is "on fire" with faith and love. They felt the same love that Jesus had for all people. They burst out of that room with great energy to show that same love …for the crowd outside!
The crowd immediately felt St. Peter's love for them. That is why they changed. If you sense that someone has your best interests at heart then you are more likely to pay attention and follow what you hear. The crowd did, and 3000 converted to follow Christ.
The very purpose of Christian conversion is for other people's lasting happiness. St. Peter believed that meeting Jesus would make their lives happier.
It is not enough for us to be just energetic or emotional ourselves. People need to see that we honestly love them and that the gift of faith will make them happier and more at peace. Peter conveyed that love well that day. Let us help make those around us happier as well.
God Bless!
Fr. Dave