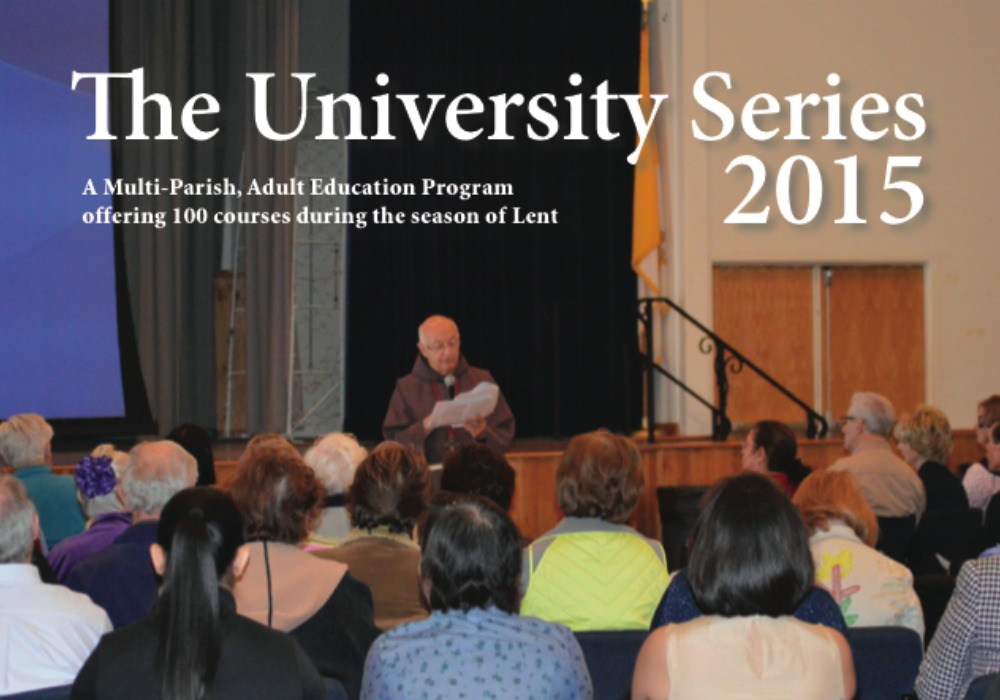 You might remember that in 2014, I completed my twelve year term as Pastor of St. Paschal's and began a one year sabbatical from the Archdiocese to write two practical "How-to" manuals for parish priests. The first is on parish leadership and the second is how to set up an effective adult education program like the University Series.
I started the University Series in this area in 2002 and it has grown from two parishes to now eleven, with three more slated to join next year. In the last several years it has attracted over 11,000 attendees representing around 3,000 individual people attending multiple classes.
Archbishop Gomez is very interested in making the University Series a reality across the Archdiocese, and even across the country. He recognizes the great need for quality and authentic Catholic adult education today. He has asked me to make this educational program happen across our Archdiocese. That is a big task! I know that not every pastor sees this need yet.
Therefore, during this next year, I will be assigned to live for one year in residence at St. Rose of Lima parish in Simi Valley beginning on July 1st. From there, I will visit pastors and parishes around the Archdiocese for the purpose of establishing University style regional programs.
Of course, I will also assist in parish activities at St. Rose of Lima as much as I can, with confessions and weekday and Sunday masses, etc. The pastor there, Fr. Joe Shea, is my classmate from our ordination year of 1978 and a good friend, and a longtime supporter of the University Series.
At the end of this next year, I will be reassigned again as normal to wherever the Archbishop deems best for the needs of the Archdiocese.
I am profoundly grateful for the opportunity to help other areas in our Archdiocese develop practical and useful Catholic adult educational programs.
(The rest of this article is a simply a review of events in my sabbatical year)
The first manual I have written is a guidebook for new pastors and anyone in parish leadership. It is based on the Gospel verses beginning at Luke: 10, where Jesus Himself trains His disciples to be leaders. The book also includes the insights from my 37 years as a parish priest, my twelve years as a pastor at St. Paschal's, as well as the insights from my Master's degree in Marriage, Family, and Child Counseling from USC in 1991. Unfortunately, too many priests arrive in parishes as pastors with little or no specific training on how to lead or manage their parish. Their early inadvertent mistakes often lead to much unhappiness for parishioners and even these pastors as well. I hope my book will help change this.
During my Sabbatical year I was also granted a Visiting Research Fellowship at Notre Dame University. During that time I was able to meet and consult with leading figures in Catholic education to help with these important projects. It also included a special inter-religious conference held at the Vatican with Pope Francis on the topic of Marriage and the Family.
In March of this year, I was also honored to celebrate the funeral Mass for Fr. Joe Scerbo S.A., a much beloved Franciscan priest who was so inspirational to all of us at St. Paschal's parish. We continue to miss his unbounded enthusiasm and joyful manner. I know he will be with Pope Francis in spirit when Padre Serra is made a saint during the Pope's visit to Washington D.C. in September.
Recently, the University Series became incorporated as an official State of California Foundation, as well as a 501(c)3 non-profit corporation. As always, all proceeds of the University Series Foundation go toward future Catholic adult education programs. I will continue to help guide the University Series this coming year.
I will, of course, continue these weekly Gospel reflections and other timely special updates that connect our faith with real life. I very much enjoy discovering the many ways that our faith provides for a happier life!
God Bless!
Fr. Dave