For as long as I can remember I have been interested in what happens in the Middle East. I have studied events there in centuries past, and I pay close attention to what happens there today. Because of the highly complex nature of this troubled region of the world, I do not think I will ever run out of material!
I also know that this was the place that God chose to send His Son, Jesus, into our troubled world. You might wonder why? Since the fall of Adam and Eve, the world has become a violent place, with much of it seemingly centered precisely in the place where He was born. For a Messiah to bring a message of "Peace on earth to those of good will" it makes sense that He should come to a place where peace is most needed.
Since His birth in Bethlehem, many layers of civilization have come and gone in this area, with each sometimes building on or more often destroying what came before, e.g. the Assyrians, Babylonians, Persians, Greek, Romans, Byzantines, Muslims, Turks, Armenians, English, French, and even Americans. It is a wonder there is anything left!
Today, the dominant story is the rise of militant radical Islamic fundamentalism and its impact on the region, Arab culture, and the response of the world to it.
Because Jesus was an actual historical figure who lived in real places such as Nazareth and Jerusalem, from the very beginning of the Church, Christians felt the call to go on pilgrimage to the Holy Land to "touch the stones" where Jesus walked. That continues today
I have been fortunate these last ten years to lead an annual pilgrimage of around 50 people on a two week trip to this area. We examine the archaeological evidence for the various biblical stories in the Bible.
My articles and posts about this area will feature insights about ancient archeological finds, modern political realities, and the spiritual insights that we can glean from both.
Why do Radical Islamic Fundamentalists Hate America?
Understanding Events in Egypt
Can we send our son to Iraq with a clear conscience?
Catholics and the War on Terror
Pilgrimage Security Briefing
Hezbollah 2006 War Articles
O.T. Violence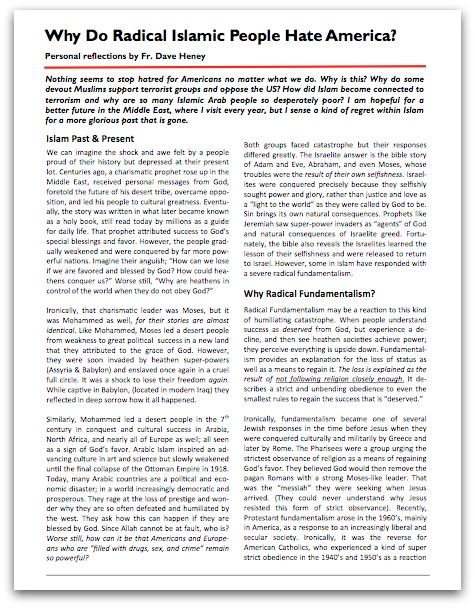 Click here to open Why Do Radical Islamic People Hate America
Please share, below, if you have visited the Middle East, maybe even on one of our pilgrimages to the Holy Land.  Did you feel safe?
I'd also be interested in your thoughts about the last two paragraphs, particularly if you agree or disagree that the battle today is within Islam, not between Islam and the west?
God Bless!
Father Dave