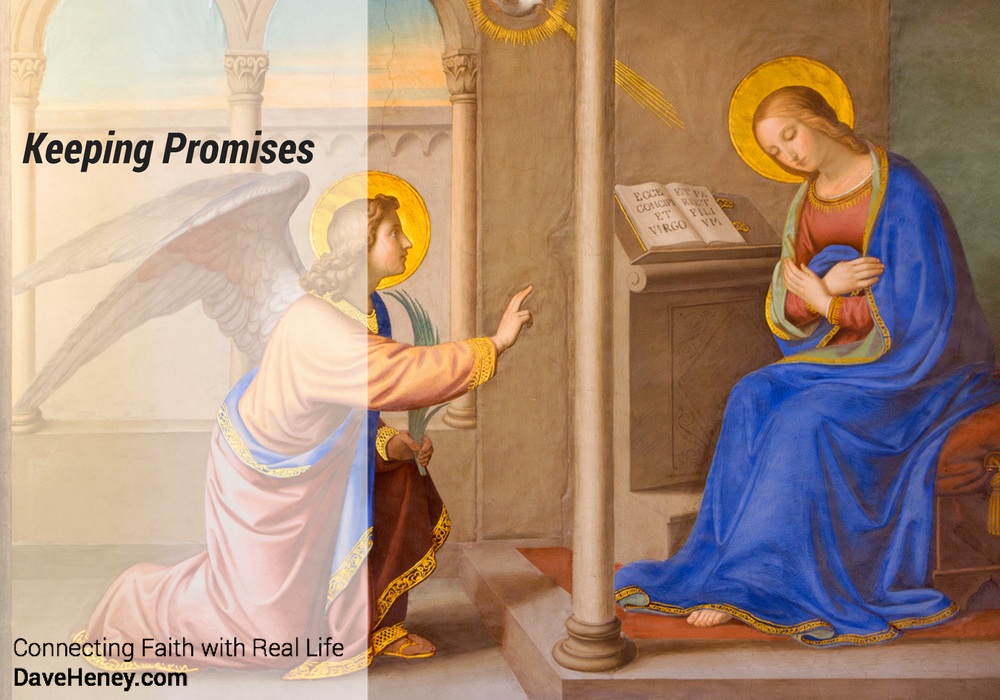 Keeping Promises
The Angel Gabriel comes to Mary to announce that she would be the mother of Our Savior …and Mary questions it! Would you have done that?!
Can you imagine an Angel of the Lord suddenly appearing before you with a message …just for you …from God! Would you question it? What would make Mary question an Angel with that kind of message for her?
For many centuries, the people of Israel had been awaiting the coming of the Messiah, the Savior, who would change their lives for the better.
Mary was a very devout Jewish young woman who knew the scriptures well, and also eagerly awaited the coming of the Messiah. But when she receives the message that she would be the mother of the Savior, the Christ, she is concerned about her earlier promise, common among devout Jewish women at that time.
The Gospel indicates that she had already made a promise of celibacy to God, (I do not know man) and wonders how God would go against that earlier promise. She is assured by the Angel that she would not have to break her promise at all, and that the Child Jesus would be conceived through the Holy Spirit.
God respects our promises. God would certainly not go forward with His plans for our salvation if Mary would not freely accept His invitation, and so the Angel Gabriel had to explain God's answer …and await her response. When she announces, "May it be done to me according to your word" …the Christmas story can continue!
Christmas is about promises made and kept.
God had promised a Savior would come and He kept his promise. Mary had promised celibacy and she was able to keep her promise. Life works to the extent we keep our promises and commitments.
At every Mass, at the words of the consecration, Jesus promises to offer His entire life, His body and Blood, for our happiness. He even places Himself in our hands at communion. He will always keep His promises. When we receive Him at communion, we promise to do the same, and offer our gifts for the good of others. Let us keep that promise as well.
Let this Christmas season be a time to reflect on and renew our commitments, to our family, to the people and places where we work, and especially to Our Lord. As He offers Himself to us at every Mass, let us do the same at every Mass at every Sunday.
God Bless!
Fr. Dave