The story of Jesus begins with the announcement of his coming birth to Mary at Nazareth. Angels later announce the actual birth in Bethlehem and that Jesus will bring a message of "Peace on earth to those of good will."
Yet, when we normally look back in history, what do we often see? …wars, violence, injustice, and people hurting each other everywhere for selfish purposes. Yet, we believe Jesus knew what He was doing when He came to this troubled planet.
I like to think of Angels offering Him advice just before He arrives in Bethlehem. I am sure they must ave offered some version of "Don't go!" Earth is too dangerous a place and people are just too hurtful. They may even crucify you!"
Yet, I am sure that Jesus response was some version of "Nothing will stop me from being with the people I love!"
Most important for us, Jesus offers a way to overcome the ways that we have been hurt by others and to move forward healed and ready for life renewed.
Life is a series of stops and starts, and knowing how to start again can be one of the wisest skills we possess. It is the key to a life of lasting happiness. Most of my appointments as a priest, after all, are with people who have been hurt in some way.
These articles will offer the path of Jesus to overcoming hurt.
Forgiveness is not forgetting
Deliver us from evil
Gossip and Rumors
3 faces of Easter
What if I get sick?
Click here to read Forgiveness is Not Forgetting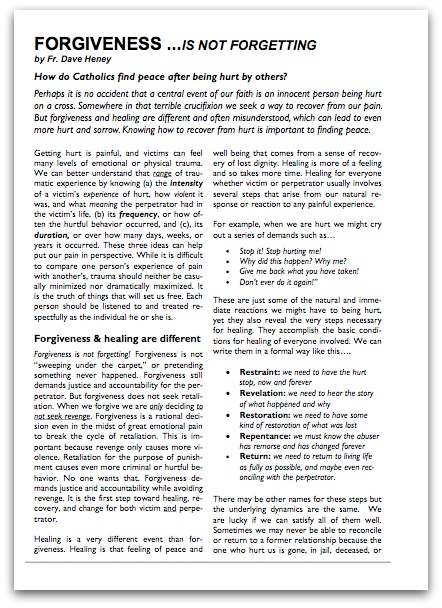 Please share, below, if you have ever been deeply hurt and how you dealt with the pain.
I'd also be interested in how your approach would be in the future after reading the article?
God Bless!
Father Dave