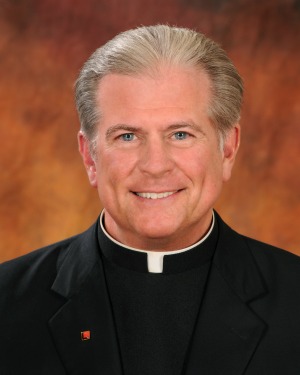 Fr. Dave Heney grew up in Thousand Oaks, CA, and was ordained a parish priest for the Archdiocese of Los Angeles in 1978. In 1991 he received a Masters degree in Marriage, Family, and Child Counseling from the University of Southern California.
He is the author of "Motivating Your Parish to Change"; a book on spiritual leadership from Resource Publications, and the author of "Don't Tell Me What to Do!" a concise Catholic view of modern moral issues which was published by Paulist Press in 2002.
He served for twenty years on the governing board of Behavioral Health Center, Psychiatric Hospital, in Alhambra; and for 2 ½ years was the Development Director for St. John's Seminary in Camarillo.
Since 2001 Fr. Dave has been the local Chaplain for LEGATUS, a national Catholic business leaders association.
In 2002, he founded "The University Series" a multi-parish adult education program during the Season of Lent that each year attracts over 10,000 attendees.
In 2007, Fr. Dave joined the Order of the Holy Sepulcher, an international association that supports Catholic Charities, Schools, and Hospitals in the Holy Land.
Every June he hosts an exciting 12-day pilgrimage to the Holy Land where the group visits and investigates the places most people only read about in the scriptures.
In 2014, he finished his 12 year term as the pastor of his home parish where he grew up, at St. Paschal Baylon Church in Thousand Oaks, CA.
Beginning in July of 2014 Fr. Dave was granted a one year sabbatical by the Archdiocese of Los Angeles for the purpose of writing two practical "How-To" manuals for priests and pastors; one on developing large adult education programs in parishes and the other on parish leadership.
In July of 2016, Fr. Dave was named Pastor of St. Bruno Catholic Church in Whittier. Archbishop Gomez asked that the University Series begin in the Whittier area, as well as for him to join Immaculate Heart Radio during the evening commute. Fr. Dave joined Immaculate Heart Radio as a Co-Host on the "Joe Sikorra Show with Fr. Dave" from 6pm to 7pm, Monday through Thursday, on AM Station 930.
Join our community as we connect faith with real life.
Sign up for newsletter updates!